For anyone who's been living under a rock for the past 3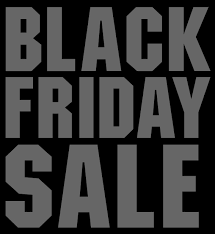 0 years, Black Friday is the day after Thanksgiving in the United States as well as other select countries around the world, known as the start of holiday shopping. The name originated in Philadelphia around 1961, where it was used to describe
the heavy and disruptive pedestrian and vehicle traffic that would occur on the day after Thanksgiving
. Years later, an alternative explanation pinned Black Friday as a reference to the most profitable day of the year for retailers. And since businesses typically report losses in red and gains in black, "Black Friday" was born. Whatever the origin, it's safe to say a marketer was involved at some point to brand this phenomenon.
For most of us, it's hard to remember a time when Black Friday didn't exist. The days of sitting on the sofa with your Alka-Seltzer, trying to tame the heartburn from Thanksgiving dinner gluttony have
long since been replaced with braving the cold midnight temps, waiting in line outside of a BestBuy to get the latest tech gadget at a deep discount. But, according to Wikipedia, the shopping frenzy of Black Friday as we know it today only became popularized in the late 2000's, when retailers began opening stores earlier and earlier in the morning on the day after Thanksgiving. In 2011 opening hours began at midnight after Thanksgiving and in 2012 some retailers opened locations beginning at 8pm on Thanksgiving Day.

While I'm the first to say 'no harm, no foul', it's clear that's not the case when it comes to Black Friday. Since 2006, there have been 7 reported deaths and 98 injuries throughout the United States. All of which surprises me, since Cyber Monday has been a compelling reason to stay in your warm home and shop online since it originated in 2005.
Cyber Monday Deals Overtake Black Friday
Cyber Monday came about around 2005 when it was reported by retailers that the first Monday after Thanksgiving was raking in big online sales. Besides the obvious differences between Cyber Monday and Black Friday, each day presented different shopping opportunities. Cyber Monday typically included deals from smaller retailers who offered online-only deals, whereas big box stores typically dominated Black Friday deals. Both days have evolved over the years so that small and large retailers alike now take advantage of both online and in-store sales when appropriate. And then of course there's
Green Monday, usually the second Monday in December
, which has been bringing in almost 60% as much as Cyber Monday.
It's easy to see the convenience and desirability of online shopping for Christmas gifts, especially if the retailer offers perks like free shipping and returns. And it's also easy to see that for some retailers, you get the best deals when you're in-store. So the question for retailers becomes, 'How do we market ourselves so that people shop with us instead of our competitors, whether it be on Black Friday, Cyber Monday, Green Monday or any other day before Christmas?'.
How To Command Attention During the Holidays
Set your sale calendar and make it public ASAP
​These days, deals for Black Friday are announced weeks in advance. Amazon's Black Friday deals started eight days in advance! You can tell Christmas is just around the corner because Santa and snowman figurines take up a section of Halloween shelf space, signaling the Christmas countdown is on! So, why not have the same kind of advance notice for shopping sales and deals?
Messaging that starts weeks in advance of Thanksgiving.
It's the ease of
strategic email marketing
that has those messages pouring into customer Inboxes. Previews of sales, exclusive shopping opportunities for "VIP customers", giveaways and sneak peeks – these are the enticing messages that whet the palate, waiting for sale-day to arrive. It's the anticipation that builds and builds, and customers are convinced they "must have" whatever you're offering.
Close down your retail location for Thanksgiving. Yes, you read that correctly.
​To be different is to be rem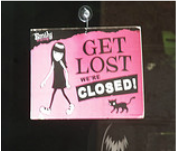 embered. This year, some retailers are trying to set an example for other retailers and consumers alike. At the very core, their message is that their employees deserve to be with their families on Thanksgiving too. But further interpretation could lead you to interpret this as a message: "what the heck are you doing sitting in the parking lot waiting for the store to open. Shouldn't you be with your family??". These exemplary retailers include
Babies R Us
,
Game Stop
,
Ikea
and more. And some, like
REI are taking the opportunity to set themselves apart with great advertising when announcing they're closed
. ​
Create your own special shopping day
​Black Friday didn't exist until someone created it, and the same can be said for Cyber Monday and Green Monday. It could be difficult for a small retailer, online or otherwise, to create a designated shopping day on their own and only for themself, but if a group of small businesses got together and did something similar to "
Small Business Saturday
" for Christmas time, there could be success around it.
Whichever tactic you choose to market your holiday-sale period, make sure it speaks to your target audience and be careful to not SPAM your contacts. At the end of it all (specifically December 26th) you need these people to shop with you year round, and not just the 29ish days between Thanksgiving and Christmas.
Happy holidays!