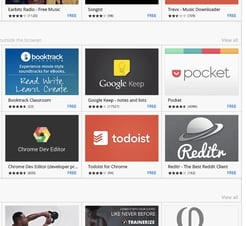 Content marketers spend a lot of their time browsing through web pages looking for good information to share with readers. If you have your browser loaded with extensions and plug-ins, you'll find that you're more productive, you save time, you stay organized and ultimately this makes marketing easier. Here's a quick look at some of the browser extensions I prefer and how they can make content marketing quicker and easier for you.
Feedly
In the simplest terms, Feedly works as a news aggregator. The reason this extension stands out is because it allows you to access your RSS streams, regardless of the device you're using. Feedly is available for your Chrome browser and it will make marketing easier because it will:
Save websites to your RSS feed
Save it for when you need it
Send it by email, tweet it, share it on Facebook and more!
Save to Pocket
Pocket helps keep you organized by saving anything to your 'pocket' with one click. The extension tool allows you to create custom tags so you can categorize your findings and when you're ready to read, you can find articles based on topics you've created.
Pocket also lets you cut down the number of tabs you have open with articles waiting to be read. You can save articles and blog posts so you can read them whenever you have time, even if they've been removed or if you're offline. Pocket is available for Opera, Safari, Firefox and Chrome.

For someone like me who at any given moment has multiple windows with dozens of tabs open in each (until Chrome crashes), this is an amazing browser extension. Having multiple tabs open can be distracting and it's also a huge burden on your computer's memory, which slows down the performance of the device.
This extension organizes the tabs you've recently opened and allows you to minimize the number of open tabs. By simply clicking a button, all of your tabs will be turned into a single tab that is like a list. You can then opt to look at a single tab or all of them at once. This can be extremely helpful, especially when you happen to be researching something and suddenly realize you have 25 tabs open. This happens to me literally every day. The One Tab extension is available for Firefox and Chrome.
For anyone in need of help with social media management Buffer is a lifesaver. Using the Buffer extension you can create a set schedule for when your social media posts should publish, and you can pre-load your posts, hashtags and all. You can even schedule updates for only one platform or across many of them simultaneously. Your line-up of posts will publish based on the schedule you've created, and then Buffer keeps track of the performance of your posts and allows you to repost with a single-click. Buffer is available for Opera, Safari, Firefox and Chrome and supports Google +, Pinterest, LinkedIn, Facebook and Twitter.
Grammarly
Grammarly functions as a grammar and spelling checker. While I wouldn't argue to replace a human editor with the proofreading Grammarly offers, it's still an impressive tool that can be used as a first line of defense to identify spelling and grammar mistakes as you're typing. Although this extension is available only for Chrome browsers, it's also available as a plug-in for Microsoft Office.
Check My Links
This is a tool that is so simple that it only has a single feature: it checks for any broken links on whatever page you might be on. Just click on the checkmark and you will instantly see if there are any broken links. A great tool if you're building out a blog, developing a new site, or to use when doing an annual website audit.
MozBar

I would love this tool even if it only provided SEO stats of web pages as you're viewing them, but it does so much more than that. MozBar is packed with features -- see ranking difficulty, create custom searches, show page and domain authority, social metrics and more.
There are thousands of extensions out there. These are some of our favorites, but there's always room for more. Any we should add here? Let us know about it below in the comments.

Interested in being more productive?
Check out our list of favorite productivity tools.