As a small business, it's tough to stand out among the towering forest of industry-leading corporations. In other words, marketing for small businesses isn't easy. No surprise there, but fortunately, you can overcome small business marketing challenges by understanding what they are and what steps you need to take to overcome them. Here are some common marketing issues we see, and the things you can do to make sure you can clear these hurdles and start to get more leads than ever.
1. Working With a Small Marketing Budget
Unlike large corporations, when we talk about marketing for small businesses we're not talking about a million dollar budget.
Don't worry, having a small budget isn't as as big a disadvantage as it initially appears. Since a majority of today's marketing is done online, corporations have the opportunity to engage in online marketing practices that will increase visitors to their website,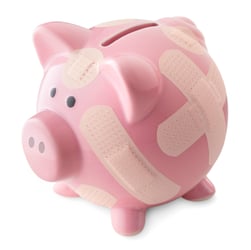 and convert visitors to leads; all of which doesn't require a big price tag. Online marketing activities include SEO, link building, blogging, and more. For companies that have employees who can manage this work, the cost is limited to that of the employee's time. While not all companies have internal resources who can write articles and participate on social channels, help in these areas doesn't have to be costly. Look for an inbound marketing agency or a small marketing agency that targets small businesses. These agencies are used to working with small budgets and can be more creative in how they spend your limited marketing dollars.
2. Looking on the Bright Side of Limited Time
The saying, "there are only so many hours in a day" couldn't be more true when it comes to marketing for small businesses that have limited time for marketing activities, which is typically coupled with limited resources. Most small businesses have a small team of marketing professionals that total 1-2 people, while others have no marketing people at all. In any case, the key is to prioritize marketing activities based on your goals, budget, and the amount of time you can afford, so that you can get the most out of your efforts.
For example, if you have very little budget to spend and you want to grow brand awareness and engagement, social media should be your priority. On social channels you can promote your website, share specific content, and engage with others, all of which encourages people to engage with you and potentially become a fan or follower. And the cost of this work is the time it would take to build a calendar of social posts for the month, and then daily check-ins and management of the channels where you're active. We're not saying that this doesn't take time or effort, the point we're making is that prioritization will help you reach your goals.
Setting priorities also gives you the added benefit of finding a way to say "no" to new requests that will take away from getting your number one priority accomplished.
3. Maintaining Consumer Engagement
When it comes to making sure your contacts stay in touch, it's best to get technology involved. By setting up targeted email campaigns as part of a lead nurturing program, any visitor that takes action on your website will automatically receive a series of emails that will present them with relevant information and more opportunities to engage with your business.
Also, being active on social media encourages people engage with your company. "Being active" means more than just loading your posts in a publishing tool and having your business profile post on a regular schedule. It means being active on social channels by logging in and reading what people are posting about your company or your industry, and then participating in the conversation, whether that means, re-tweeting, replying, liking, sharing, or commenting. It's important to remember that engagement is a two way street. If you want people to talk to you or talk about you, you have to talk to them too.
4: Defining a Target Market and Developing Buyer Personas
All your marketing activities could be for nothing if you're not talking to the right people. You can start building your buyer persona(s) by reviewing your current customer list and figuring out if your buyers have common threads so you can group them together. Once you've done this, define the buyer -- their motivations, demographics, habits, and more. You can then use this information to help shape your marketing strategy -- where you should focus marketing efforts, what kinds of topics you should blog about, which are social channels where you should be active, if at all, etc.
For companies that don't have existing customer information as a basis for defining their target audience, you've probably defined your target market in your business plan. Use this information and edit it as your customer base builds. You may find that you were exactly right about who your consumers are or maybe you'll need to make adjustments. All this to say that you can edit your buyer persona information as you need to.
Any time we come across challenges to meet our goals it can be discouraging and intimidating, and when it comes to small business marketing challenges, it's clear the issues are around time, money, engagement, and target audience. When you know how to work around these challenges, you can make the kind of progress that leads to the results every marketer wants - visitors, leads, customers, and revenue.