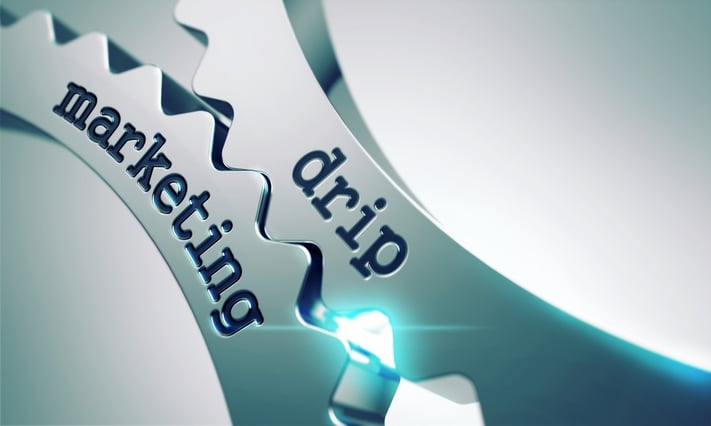 Once upon a time, any customer who walked through a company's front door had the option of turning around and disappearing forever. Needless to say, a lost customer causes ample frustration on behalf of business leaders and marketing teams. Thankfully, today's online economy has created a cyber welcome mat of virtually endless possibilities.
How, you ask? Allow us to introduce the creation of drip campaigns and the amazing things they can do for your inbound marketing efforts!
What is a drip campaign?
Great question. After all, it's hard to launch an out-of-this-world drip campaign when you're not exactly sure what they are!
Drip campaigns are a series of email marketing messages, which are set to automatically send to specified target customer segments. The premise of drip campaigns is based on the idea that most consumers aren't going to make a purchase upon their first encounter with you, but with a few well-timed gentle nudges, your potential consumers can turn into loyal customers. The automation magic takes much of the manual management out of the consumer courtship, while the automation tools allow for customization of each email to instill a personalized business relationship.
Drip: How do drip campaigns keep companies from dropping off consumers' radars?
Drip campaigns encompass a certain science that plays on consumer behavior. Each well-crafted piece of content is intended to speak directly to its recipient in a manner that addresses pain points and provides information specific to the place that person is in the sales funnel.
In short, these magical messages drop right into consumers' inboxes exactly when they're supposed to, delivering relevant reminders that keep companies at the top of mind when their audiences are ready to move further down the funnel. .
Drop: How do you know when it's time to drop the next message in your customers' inboxes?
Generally speaking, drip campaign messages are triggered either as a result of a specific activity or when a certain amount of time goes by. Depending on what you're trying to accomplish, one method might work better than the other, but it's important to note that timing is always a factor in a successful campaign.
Often, certain activities trigger a drip campaign to begin. Consider a customer who just subscribed to your blog. To grab this new subscriber's attention, you'll want to offer up some of your awesome content they may have missed shortly after they expressed interest in learning more about you. Your campaign might look like this:
Welcome email thanking them for subscribing
Email compilation of some of your most-shared content (two days later)
Invitation to explore member-specific benefits (one additional week later)
The key with drip campaigns is identifying specific triggers when consumer interest is at its highest so you can capitalize on this optimal amount of attention.
Droop: How do you stay relevant without drooping below the radar?
There are two important things to remember about drip campaigns:
First, if too much time goes by between interactions, your audience will be less likely to contribute to an awesome open rate. Each email should be strategically sent with just enough time in between to be a quick and efficient reminder about what you can do to make your recipients' lives easier.
Second, too much of a good thing can be more than just a phrase. If you inundate your audience with too many messages or send emails at too high of a frequency, you'll send them running to your unsubscribe button. It's important to steer clear of being a pest when you're trying to put your best foot forward.
Of course, nobody said you have to stick to one campaign and never deviate from that plan. In fact, a successful company will do quite the contrary. To cast the widest net in terms of consumer engagement, you'll want to have multiple campaigns that appropriately target your audience at every turn.